How To make 100 to 500k monthly as Subpadi agent
Subpadi is Nigeria fastest developing telecommunications recharge service provider that is student and small business focused, Subpadi helps you to make extra income without disturbing your normal day to day business or personal activities.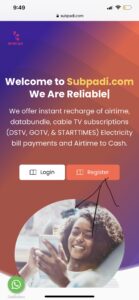 You can make between 100k to 400k easily every month in recharge business with Subpadi. This is because they have fast servers, almost Zero downtime, industry best customer support and Business Mentorship services to their customers and most importantly their agents so people do very well starting business with them
Why should you Join Subpadi
Fast 24/7 Customer Support

Wholesale Pricing for all agent.. The cheapest in the market

Advanced easy to use technology platform.

Lot of varieties of Services

We have been ranked best customers support for Telecoms resellers and small businesses in Nigeria
What You can Sell with Subpadi
Wholesale Airtime Sales

Wholesale Data Sales

Discounted Dstv, Gotv And Startimes Subscriptions

Discounted Nepa Bills Payments

Bulk SMS to customers

Airtime Swap from One Sim to Another

Airtime to Cash in Bank
How You Make Money
Login to your account, click the tab and go to pricing,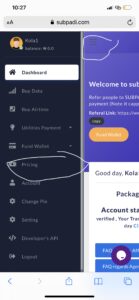 first you want to check the prices of goods and services available under topuser/agent user,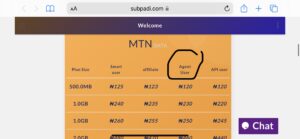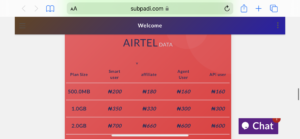 that is the price Subpadi will be selling to you, the next thing is to write all this prices out and add your profits to get your selling price. After you add your profits then you have your selling price, you can then resell to your customers at your selling price.
Also Recharge business is customers business, the more customers you have the more money you make, you need to tell all your family and friends about your new business and tell them to tell their friends and colleagues too from there you start having customers.
You can also run online ads or share information about your new business online via Facebook, Twitter, instagram or whatsapp to get new customers.
Steps to follow to SignUp as agent
Visit Subpadi.com to register your account
Verify your email, check the mail from Subpadi that says activate your account..


Usually you will find them in your email inbox or rarely inside your spam folder.

If you dont verify your email, In a scenerio you forget your password, you wont be able to reset it and you will lose the accounts and funds.. No admin will be able to help you, Make sure you verify your email before logging IN.
Click the link inside to verify

Login to your Account using your provided username and password

Read Faq regards Agent User and understand them very well
Click the upgrade to agentuser button to upgrade

Congrats You have successfully become an agent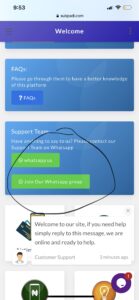 After you've upgrade chat the Agent Admin on whatsapp  to put you through other things or if you have any questions.
Get Started now click the link below👇
Checkout Our Video Tutorials
How To Buy….How To Fund Wallet… How To Recharge