Virtual Top up Business In Nigeria with Subpadi.com
Subpadi Communications  presents you with an innovative solution to buy airtime, recharge data, pay tv subscriptions, pay electricity bills, print airtime, send bulk sms and other telecom services. Subpadi.com is a product of RIF FUTURES LLC (RC1805203) to provide cutting edge and zero capital business opportunities for Students and Entrepreneurs.
With our unique services on Subpadi.com, you can;
✅ Top up airtime as low as N50 on MTN, Airtel, GLO, 9mobile.
✅ Top up data bundles instantly for all GSM networks in Nigeria.
✅ Top up MTN data (data share) instantly at cheaper price
✅ Pay cable TV subscriptions (Startimes, Gotv, DStv) instantly.
✅ Pay Electricity bill payments (EKO, IKEDC, KEDC, IBEDC, AEDC, EEDC, PHED etc)
✅ You enjoy unique bulk SMS service that delivers to all networks with custom reporting, so, you will never waste your SMS credits.
✅ You can convert excess airtime to cash instantly.
✅You can print your Airtime directly from the website.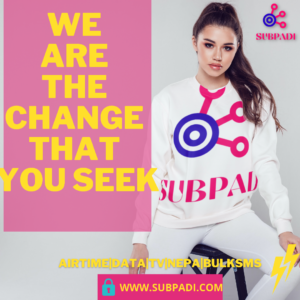 How Does It Work
Here at Subpadi our dedication is to students and entrepreneurs who need a side paying job with lucrative result, unlike other major dealers, we don't charge any fees for agency and registration, we have gone through all length to make sure we cover all possible costs with our Zero Capital Business Innitiatives, we don't charge any recharge or subscription fees instead they come with extra bonus
How Much am I Making On a Daily Basis.
✅Upto 5% discount on Airtime
✅ Regular Sme plan sold around ₦500; our Normal Users get at ₦300 our Agent get as low as ₦220
✅ Upto 1% discount on Every cable and TV Subscriptions and you also keep the ₦100 charges
✅Upto 15% discount on Data recharges
And many more… Our agents bag around ₦70k – ₦150k monthly😎
How do I get Started
Register your Account by clicking on Register when you click
👇
Verify Your Email Account and Login
When you get an order you can Pay via Atm, ussd code or bank transfer.
Process your orders at discounted prices.
All orders are automated with instant delivery.
How to Become an Agent
You can become an agent by clicking upgrade to either Affiliate or Top user button on your profile dashboard.
Affiliate: As an affiliate, you are more interested in selling directly to end users. There are no limits to your monthly transactions and you can earn unlimited amount of money every month. This is a premium Plan that cost around ₦3000 to ₦7000 but here at Subpadi we take keen interest in Students and Entrepreneurs and have made it free of charge. You can register
👇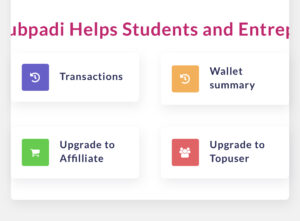 Top User Agent: As an Agent Top user, you are more interested in selling directly to resellers and End users. Our Agent Registration cost around ₦10,000-₦15000 but here at Subpadi we take keen interest in Students and Entrepreneurs and have made it free of charge. However you have a monthly limit of ₦12000 just to know your are serious about being an agent.
You can register
👇
Do you want to have your own website just like our own and earn money on autopilot?